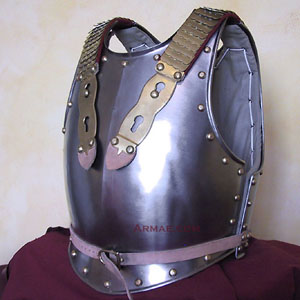 Description
The french cuirassiers were the most fared heavy cavalry units of the napoleonic army. They were equiped with a wrought steel armor - breast and backplate.

Our replica is a second type one, coming with its brass scaled shoulder guard, and the inner padding. Both halves of the armor are closed together with a leather belt, and the shoulder guards. The inner part is padded, with a pocket used to place the documents of the fighter.

Made on measurement in the EEC. Forged steel plates.