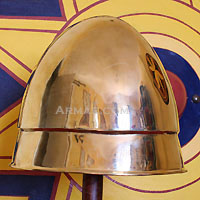 Description
The Pilos helmet is named after the felt cap worn in the north of Greece, whose shape it copies. It will appear during the 5th cent BC, and will remain the same for two centuries. It will be used either by classical, Hellenistic end italic warriors.

Made of brass. Inner layer of leather. 18cm wide, 21,5cm long. Hat heigth 20cm.
×
All the helmets - unless otherwise specified - come without internal padding.