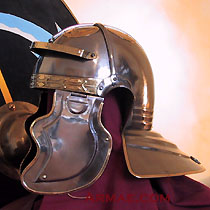 Description
Decorated with crescents, the helmet was found in Hebron, Israel. The two crossed iron pieces are an improvement of the beginning of the second century, intended to reinforce the bowl, probably following Trajanus dacha wars. This helmet was dated around 130 AD.

Made of iron, with brass brackets and fittings.
×
All the helmets - unless otherwise specified - come without internal padding.