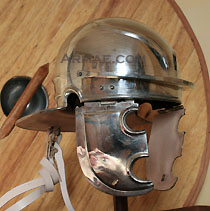 Description
This helmet is a copy of one of the most emblematic helmets of the Guttman collection. It is an imperial gallic A helmet, which can be dated from Augustean time, near year zero.

It is made of iron, and is tinned to avoid corrosion. Cheekpieces and neckguard are covered in leather. Come with straps. Inner length 22cm, width 18cm.
×
All the helmets - unless otherwise specified - come without internal padding.