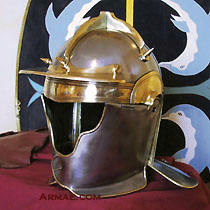 Description
Initially identified as an auxiliary cavalry helmet, this helmet is now known for having been used by infantry units. It shows a totally new design, to be used from the end of the second century until the late third one.

Made after a found of Heddernheim, Germany. Made of iron with brass fittings, braces and edges.
×
All the helmets - unless otherwise specified - come without internal padding.