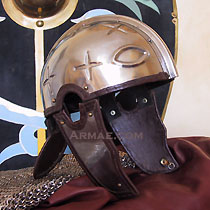 Description
The internist helmet belongs to the mass produced helmets in the late roman empire fabricae. It is the same helmet than the Augst type, but with another kind of decorations (two eyes on the front of the bowl). Found in Intercisa, Hungary

Made of iron, with an internal leather trimming.
×
All the helmets - unless otherwise specified - come without internal padding.