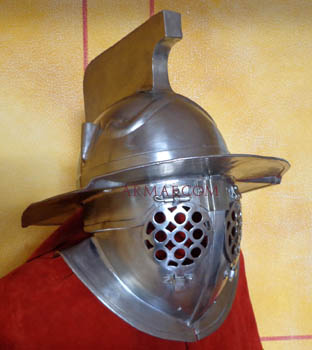 Description
The first gladiators helmets came from the Greek attico-beotian pattern, with a peak made of a large collar. During the first century, a facial protection will be added, with a gridded eye protection. The shape of our HL184 is typical from the first cent AD.

The shape of the crest holder shows that this helmet could be used either by a murmillo or an hoplomachus.

Made of tinned steel. 42cm high, 38cm deep and 35cm wide. Steel 1.5mm thick. Need to be padded to be worn.
×
All the helmets - unless otherwise specified - come without internal padding.