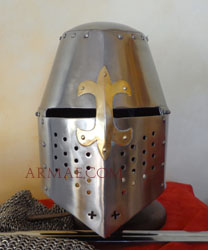 Description
This 13th great helm was designed to be worn on a chainmail cap, or a cervelliere. It is the good helmet for the one who wants to be equipped as the fighters were.

Weight 4kg. 28cm (long) x 23cm (wide), 45cm (height). Metal 1,6/2,0mm thick.
×
All the helmets - unless otherwise specified - come without internal padding.