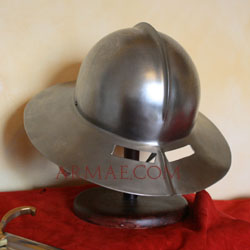 Description
This helmet's shape, with its wide sides, is the one favored by the English bowmen of the late middle age. The two narrow slits on the front allow them to look up without loosing the helmet's protection. This makes this helmet perfect for siege warfare, and it was also used by sappers and miners.

2kg. 37x37x20cm outer dimensions, size fitting up to 51cm head perimeter. Steel thickness 1,5mm.
×
All these helmets are EEC handmade. Metal thickness is 1,5 to 2mm, and the helmets come with an internal padding. They are standart size (58/61), but may be made on measurement. Please contact us before ordering if you want them to be made on measurement.