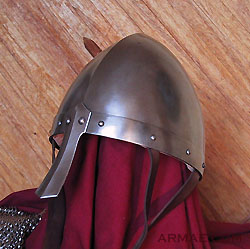 Description
With its typical nose guard, this helmet remind us immediately the Norman warriors, as depicted on the Bayeux tapestry. It was probably the most used head gear of the first part of the middle age.

Weight 1.1kg. 22cm (long) x 19cm (wide). Metal 1.5mm thick.
×
All these helmets are EEC handmade. Metal thickness is 1,5 to 2mm, and the helmets come with an internal padding. They are standart size (58/61), but may be made on measurement. Please contact us before ordering if you want them to be made on measurement.