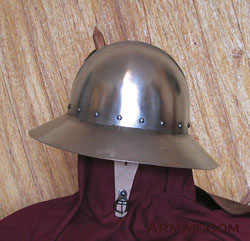 Description
The kettle hat was a simple bowl with a big rand. He was particularly used by archers and sappers, for it allowed the head to move freely, gave a good protection against missiles coming from the top, and did not hinder eyesight. It will evolve later to become the Morion.

Weight 1.9kg. 21cm (long) x 19cm (wide). Metal 2.0mm thick.
×
All these helmets are EEC handmade. Metal thickness is 1,5 to 2mm, and the helmets come with an internal padding. They are standart size (58/61), but may be made on measurement. Please contact us before ordering if you want them to be made on measurement.