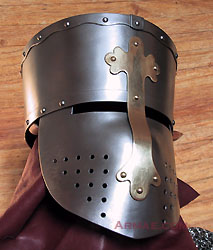 Description
This is also a fine example of a 13th cent great helm, the first ones to protect all sides of the fighter's head. The brass decorative cross adds to the protection, but also to the look of the warrior, making it seem more powerful.

Hand made in the EEC.
×
All these helmets are EEC handmade. Metal thickness is 1,5 to 2mm, and the helmets come with an internal padding. They are standart size (58/61), but may be made on measurement. Please contact us before ordering if you want them to be made on measurement.