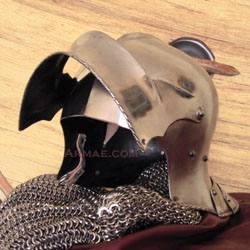 Description
Such helmets were made to offer a maximum protection to the soldier, and were used either by footmen or horsemen. The visor comes up when the warrior isn't in the middle of the fight, to allow better vision and breathing. The neck guard is fully articulated.

Hand made in the EEC.
×
All these helmets are EEC handmade. Metal thickness is 1,5 to 2mm, and the helmets come with an internal padding. They are standart size (58/61), but may be made on measurement. Please contact us before ordering if you want them to be made on measurement.