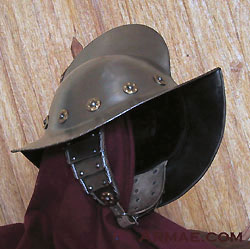 Description
The Morion appears in Germany, in the middle of the XVIth century. It spread then in all Europeans armies, and was used either by light cavalry, infantry, musket men.

Our is already a sophisticated one, with cheek guards, brass brackets, and a tube used to stick feathers at the back. Weight 2.2kg. 22cm long, 19cm wide (inner sizes). 1.8mm iron sheets. EEC made, high quality level, inner padding.
×
All these helmets are EEC handmade. Metal thickness is 1,5 to 2mm, and the helmets come with an internal padding. They are standart size (58/61), but may be made on measurement. Please contact us before ordering if you want them to be made on measurement.