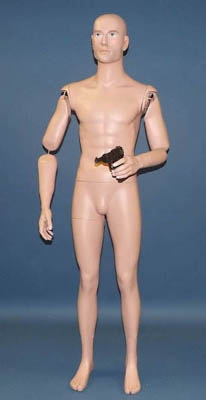 Description
Our mannequins have been made specially to present historical costumes. The differences between them are only the faces.

Arms are fully articulated, and the feet are made of two separated parts, allowing to put the shoes easily. The heel may be adjusted in height, to change the position. The hands are made of plastic, which can be thermoformed to change their position. They are made of resin and glass fiber.

The stand is made of glass, with a steel ramrod to be fixed on the calf (under the pants, then).

Head perimeter 55cm, shoulder width 44cm, chest perimeter 90cm, waist size 73cm, total height 176cm, legs length 88cm, feet 20cm, weight with wrapping 15kg.