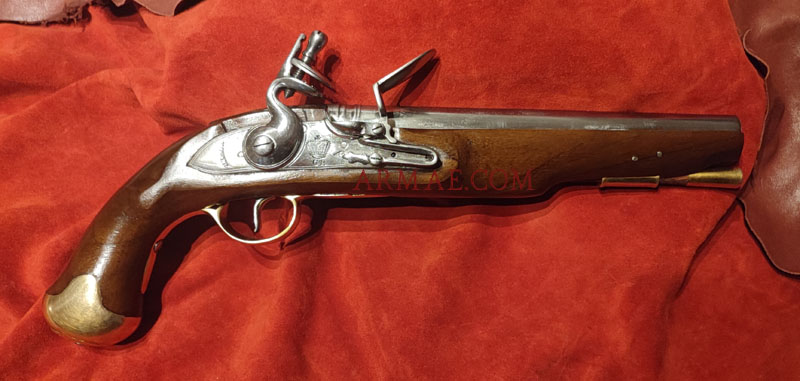 Description
This is a great replica of the famous "Eliott Dragoon Pistol". This pistol was named after General George Augustus Eliott, who introduced in UK light cavalry units, in response to the French hussars. Commander of the "Kings' Own Royal Light Dragoons", he was also responsible for procuring their armaments. He worked with the British Board of Ordnance to design new weapons, suited for the need of this new unit. This was the first time that field officers worked with the board.

The result was the P-1759 "Eliott" Light Dragoon Pistol, much shorter and lighter than the heavy cavalry ones. This model was slightly modified in 1799, and was in use in all the light cavalry units during all the Napoleonic wars, commonly named "Eliott pistol".

Total length 40,5 cm, barrel 23cm, caliber ,62 (15,7mm).
×
Our copies are absolutely true to the originals : size, weight, marks... The firing mechanisms are totally functional (the flint is not provided with the gun, though). The barrel is made of carbon steel (type:BS970 no.080M40). Being non functional replicas of black powder weapons, our muskets and guns are free to buy and possess in most countries. They either are classified as decorative items or allowed weapons, but you have to check the point in your own country, to be sure not to contravene any law, and that you are free to import and buy them. The vent has not been drilled on our weapons. They are therefore not usable, even if the firing mechanism is perfectly functional. Drilling the hole may change the classification of the item, for it becomes theoritically usable, and you may have to check if the regulations of your country allow it. Our weapons are not proofed for blackpowder firing. If you choose to drill the hole, after having checked that the local law allows you to do this, you must have the weapon proofed before firing any bullet or munition. We cannot give any guarantee against the damages your musket may suffer during the proofing test. Please remember this warning : never use a blackpowder gun which has not been proofed for firing a bullet (or anything else, by the way). Never use blackpowder without proper advising.