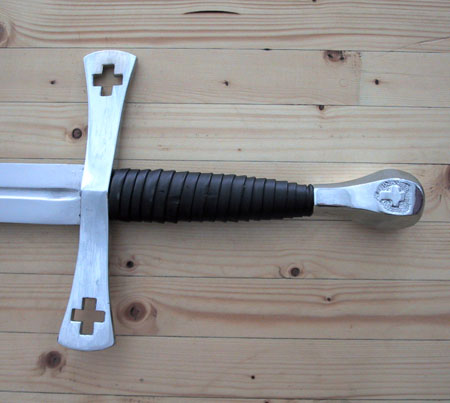 Description
The Tewkesbury Longsword is a typical late middle age weapon. Equipped with a mild steel hilt, it has a wooden grip fitted around the blade tang and over-wrapped in black leather. The pommel has a recessed Cross. The sword comes with a wooden scabbard overlaid in black leather and fitted with a protective chape and locket of blued steel.

The broad blade made of high carbon steel has a powerful striking power, easy to maneuver due to the elongated pommel and the length of the grip.

Length 118cm. Blade length 91cm. Width of the blade at the hilt 5cm. Weight 1,8kg. Unsharpened blade. Hilt made of wood and steel.
×
All these weapons have steel blades, but are not intended for fencing, unless otherwise specified.