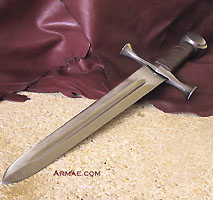 Description
This double edged dagger matches perfectly the swords of this period, being itself a shorter replica of the weapons.

Length of the blade 31cm, total length 48cm, weight 900g. EEC made. The grip is permanently mounted and the tang is riveted for safety. The hardwood grips are leather-covered. No scabbard.
×
These weapons are made for fencing. They have blunted edges and points. Please note that traditionnal fencing need a proper training, security measures to be learned, and protections to be weared.