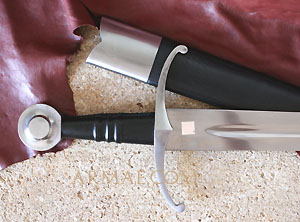 Description
This sword has been made for stage combat, based upon a shape in use during the 12th and 13d centuries.

It is made of a full-tang, thick-edged, 1065 high carbon steel blade with peened hilt and pommel using solid steel parts. The grip is made of leather wrapped wood. Of course, the edge is unsharpened.

Total length 100cm, blade being 81cm long and 5cm wide at the hilt. Total weigth 1200g.
×
These weapons are made for fencing. They have blunted edges and points. Please note that traditionnal fencing need a proper training, security measures to be learned, and protections to be weared.