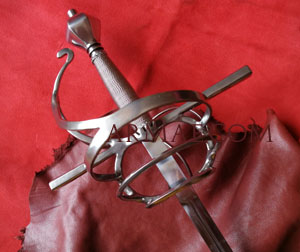 Description
An awesome 17th Century rapier with a very complex hilt and faceted pommel. The grip is with silver plated wire with woven wire rings, top and bottom. The high carbon steel and fully tempered blade features a wide fuller to lighten and strengthen it for thrusting. An heavy ricasso provides extra strength to the main stress area. The genuine leather scabbard features deeply engraved floral patterns on the throat and tip.

This type of sword was deadly effective as a dueling weapon. Typical of the italian style.

Blade made of high quality high carbon steel. Scabbard included.

Weight 1.15 kg, total length 117 cm, blade length 90 cm, blade width at base 2.1 cm.

Made by Windlass Steelcrafts.
×
All these weapons have steel blades, but are not intended for fencing, unless otherwise specified.