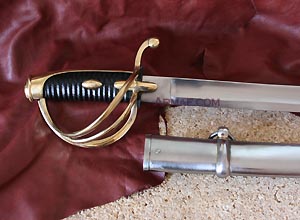 Description
This so called "à la chasseur" saber is the An XI kind. Used by light horse and horse artillery, he was even used after the Napoleonic empire, due to his great success. One of the actual French army officer sword is even a smallest version of this saber. It was made at Klingenthal's factory, its name being engraved on the blade.

This weapon was used by the famous hussars. The grip is made of wood, covered with leather.

Length : 107 cm, weigth 1,15kg.
×
These swords and sabers are high quality copies. Blades are made of forged and tempered steel. They might not be used for fencing, though.