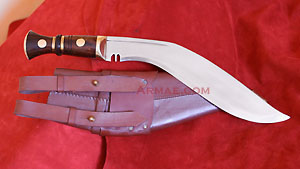 Description
Traditional Nepalese weapon, the Kukri is of course associated with the legendary Gurkhas, which still use it today as side weapon. It strange shape is designed to allow the fighter to give thrusting blows without having to bend his wrist.

Hilt made of wood, with brass decorations. Total length 42,5cm (blade 32cm).
×
All these weapons have steel blades, but are not intended for fencing, unless otherwise specified.