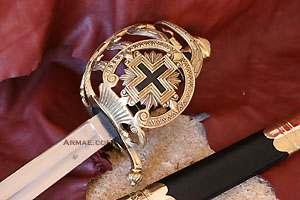 Description
The musketeer's corps was funded by Louis the 13th in 1622. This personal guard was divided into two 250 men companies, all of them belonging to the nobility. These companies will be suppressed by Louis the 16th in 1775, created again in 1789, and dissolved with the revolution. Louis the 18th will create them again in 1814, but they won't last long, for the corps finally disappear in 1816.

This 1814 model saber is therefore almost impossible to find today.

Hilt made of brass, blade of steel. Grip leather covered. Scabbard : wood, leather and brass.
Length 115cm, weight 1,5kg.
×
These swords and sabers are high quality copies. Blades are made of forged and tempered steel. They might not be used for fencing, though.