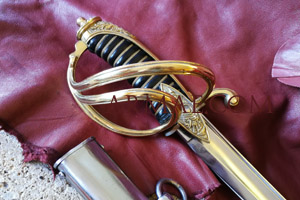 Description
This light horse officer saber was carried in the hussars, chasseur a cheval, lancers, polish lancers and light artillery companies of Napoleon's light horse. It has the same general pattern than the An IX saber, with a more decorated hilt. It was added to the official weapon list in 1812.

Length : 102cm, blade 83cm, weight 1kg.
×
These swords and sabers are high quality copies. Blades are made of forged and tempered steel. They might not be used for fencing, though.